Methane from biogas, a natural byproduct of sewage treatment, landfill and animal-waste facilities, is a ready source of renewable energy. Rather than burning this gas, which consumes energy and increases local emissions, commercial and government facilities can use this biogas as a form of energy for on- and off-site use as a renewable energy source elsewhere.
Ameresco brings the proven experience and expertise needed to help governments and private industry convert biogas from a cost center into an energy source. We can design, build, own, operate and maintain methane digester facilities and pipelines. Power purchase agreements (PPAs) and energy savings performance contracts (ESPCs) can provide financing, making these energy infrastructure improvements budget-neutral. Our independence gives our customers full access to the latest technology available for biogas plants, allowing us to provide solutions that capture this wasted resource, use it beneficially to have a positive impact on the bottom line, meet exact budget and power needs, create local jobs and improve the environment.
Landfill Gas Solutions
Traditionally, landfill gas has escaped into the atmosphere through the slow decomposition of waste, or the flaring of waste to expedite the process, contributing greatly to greenhouse gas emissions and local smog. Ameresco works as an intermediary between landfills, nearby facilities, local utilities and local governments to develop landfill gas-to energy (LFGTE) projects that capture this gas for electricity and heat, turning a harmful source of waste into a beneficial source of renewable energy.
We design, build, maintain and operate renewable energy plants for facilities near landfills. These renewable energy projects safely divert landfill gas through extraction wells and pipe it to a landfill-gas-to-energy plant, where it is cleaned before specialized engines convert it to energy for use by the facility and, in many cases, the nearby community.
With landfill gas-to-energy projects, Ameresco creates a mutually beneficial relationship between all parties involved.
Facility Managers: Generate a steady supply of low-cost renewable energy that can power and heat much of their facility
Landfill Operators: Safely and efficiently remove waste in a clean manner and gain additional revenue streams from landfill operations
Local Government and Community: Dramatically reduce smog and landfill odor while diversifying electric procurement options
Local Utilities: Purchase wholesale energy from the plant
San Antonio Water System
A biogas treatment plant turns 900,000 cubic feet of methane into usable gas piped to a commercial gas line, generating $200,000 in revenue each year.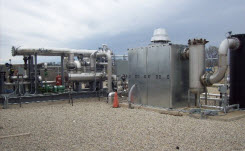 Jefferson City Landfill
Captured landfill gas produces 3.2 mW of clean energy and reduces greenhouse gas emissions equivalent to almost 28,000 vehicles.
Watch the San Antonio Water System video
Watch the Ox Mountain video